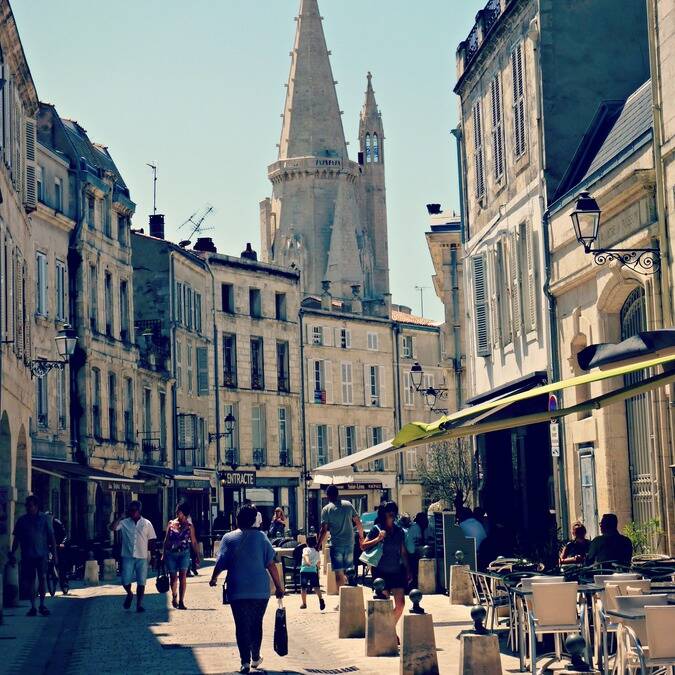 Nestled on the Atlantic coast, the thousand-year-old city of La Rochelle offers an idyllic holiday setting. La Rochelle has managed to preserve its exceptional architectural heritage while modernising and constantly regenerating.​
La Rochelle, the authentic Charente town
Its maritime port has made La Rochelle a major asset for the region from an economic and cultural and touristic point of view. With its 80,000 inhabitants, the town is one of the most attractive in France for tourism.
If you're looking for a friendly campsite for your holidays, La Rochelle is the place for you.
La Rochelle has so much to see that your holiday diary will be quickly filled. Walk around in the heart of the old town, with its pedestrian streets, take the sun on the terraces of the old port with its famous towers, stroll along the beach or take a dip and breathe the air of the open sea.
The artistic and cultural scene is particularly vibrant, with lots of lively street events and the famous festival, Les Francofolies. Discover this memorable town by reserving your campsite in La Rochelle or its surrounding countryside, for a few days or a couple of weeks. The nearby islands, the Ile d'Oléron and the l'île de Ré make it a a great base camp for the holidays.
A relaxing holiday facing the ocean
The inhabitants of La Rochelle particularly appreciate this "unique sweetness of life," as do seasonal visitors, even after a short stay. Here, the ocean is omnipresent and the town boasts four ports - the Old Port in the city centre, the Minimes marina, the commercial port at La Pallice and the fishing port of Chef de Baie.
La Rochelle is a true trading town, linked to the world by its location on the Atlantic coast, and its architectural heritage is a reflection of the multiplicity of origins of the town.
The more athletic visitors will love the opportunities for sailing and other nautical activities in the town itself and in the surrounding area.
La Rochelle has a particularly environmentally friendly transport system to get you from place to place during your visit, with self-service bicycles, electric shuttle buses, a sea taxi and electric cars. There are also lots of green spaces and with parks and gardens, the Tasdon wetlands, and a Blue Flag beach.
The beaches are all wonderful but you may particularly enjoy Châtelaillon-Plage,the favourite seaside resort for local people.